Salt Brine
* For Anti-Icing & Deicing Applications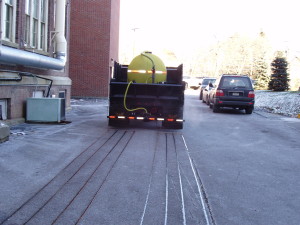 * Working temperature of -18 degrees
If applied just before a winter storm, salt brine will begin working as soon as the first snowflake falls and will help delay the accumulation of snow and ice on the pavement.
Contractor Services
Liquid Delivery
Brennan Landscaping can deliver liquid to your site. From 300 gallons to 4500 gallon trailer loads.
Anti-Icing Applications
Hire Brennan Landscaping to pre treat your parking lot, private driveway, parking garage, sidewalks or any area where you have problems with hardpack snow & ice.